Unbeatably Flexible Solutions
We provide fully customised performance and reporting solutions for multi-asset classes investors, enabling you to share and communicate 360 views of portfolios on any device.


Cogendi Analytics is one flexible platform used to valuate, analyse and report by:

Sovereign
Wealth Funds & Institutions
Ownership of a wide range of asset classes and evolving types of instruments
Slice your investments between strategic and tactical or any other criteria
Indirect & Direct investments in Private Equity, Real Estate and Infrastructure
Specific portfolio hierarchy, with Global and Multi Layer / Multi faceted views
Specific accesses and dashboards for various departments and specialists teams
Executive level reporting and online accesses
Integration with various systems: back office, custodians and data feeds

Family &
Multi-Family
Offices
Diversity of ownerships of assets: individual, grouped and/or shared and evolving ownership
Multi-asset classes: listed equities, fixed income products, long only and hedge funds, PE/RE limited partnerships
High level tailored performance reporting and communication
Consolidation of accounts from various systems and custodians

Private Banks & Independent Asset Managers
Diversity of portfolio types: funds, managed accounts, models and bespoke benchmarks
Mono or Multi-asset classes investments structures
Flexibility for analytics and reporting
Benchmarking and performance contribution & attribution
Investors reports and web accesses
Funds fact-sheets
Consolidation of multi systems and data feeds
Key information highlighted by design
Every piece of information that is relevant about your portfolios and investments, from performance, to contributions, to cash flows, to compliance with guidelines etc. is dynamically available for every period, with your chosen design.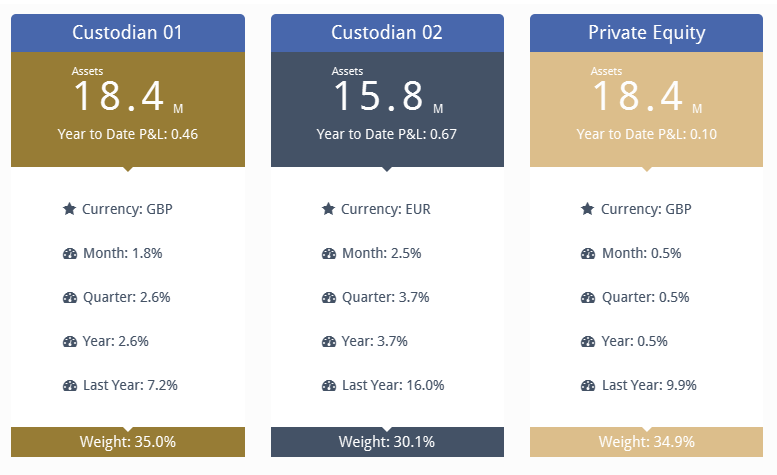 Cohesive, comprehensive and unbeatably flexible.

Multi-Asset Classes Portfolios
We cover all asset classes, which means you have one cohesive platform for global views of your portfolio, computations using specific metrics for each asset class, & performance and analytics by the grouping relevant to you.

Fully Customised Solution & Reports
You will have a solution that is fully customised to match your business. Every aspect will be specifically customised for what you need and nothing else. We are the only solution provider who can give you this.

Flexible Portfolios Engineering
Your accounts or portfolios are combined, sliced or filtered to match exactly how they are set up in your business. You can then aggregate, filter or slice from here to match your business requirements for analysis. Modelling enables you to create theoretical portfolios for what if's, benchmarks and model investments for assigning to clients.

Comprehensive Powerful Analytics
All your analytics needs are seamlessly available for any period within our cohesive platform. Apply your choice of statistics at Portfolio, Investment or any grouping level, change you parameters and see the results instantly. Analyse performance, P&L, contributions, attributions, your trading activity, investors contributions, etc.

Include Your Files Within Our Platform
Include all your investments supporting documents directly within our platform. Also conduct and track all your research and due diligence activities & write and store specific commentaries.

Seemless Data Integration
Wherever your data is located, whatever systems and providers you use, we will transform the data that is required for your specific needs, to match our platform format, integrate it, and, automate the process.

Integrate Cogendi multi-assets analytics directly within your Investors or Enterprise website, portal or other Business Intelligence tools.

Hosting Choice To Suit You
Depending on your specific requirements you can choose to host your solution or you can ask us to host it for you.

"Our experience with Cogendi confirms all we said at the outset. They understand the challenge and have the experience to do it. It feels like an open on-going conversation..."
"Within 10 minutes I knew that they understood. Cogendi has dealt with the nuances of various instruments, worked with sovereign wealth funds and could accommodate different securities…"
Would you like to know more?
We have been delivering tailored solutions for more than 20 years and have developed a very simple approach that delivers for you in record time. We invite you to read more about Our Approach and the key features of Our Platform.
If you have any questions or a specific issues we would
be happy to discuss them with you.